I have a homebrew desktop running Windows 8 with a slightly mismatched set of 24" 1920x1200 monitors. A nice setup, but I got for free a pair of unwanted 22" 1920x1080 monitors that I couldn't resist adding to my setup. Upgrade obsession. I could only justify adding them if the cash outlay was small.
The problem was how to upgrade the computer to support four monitors, and how to physically put them in my cramped workshop. I wanted to put them in a 2x2 array.
I use this as a workstation for engineering work, programming, some graphic design work, CAD, surfing the web and email. Once in a while I play a video game, but not much. For me getting the most pixels in front of my face makes me more productive. Being able to see specs, schematics, type and paste into my blog, open a photo, see my code, a stackoverflow help page, the emulator running, etc. all at the same time.
I already had a video card, which although old, still meets my needs very well. It is a circa 2009
XFX Radeon 4890, but it only has two DVI outputs and is too old to support Eyefinity. It is PCIe 2.0 x16
My motherboard, circa 2009 is rock solid and only has one PCIe X16 slot (the blue one in the photo), so I couldn't buy an additional standard video card It does have four PCIe 1X slots, at least one of them is blocked by the monster 4890 video card. They are the short white card connectors.
GIGABYTE GA-MA770T-UD3P AM3 AMD 770 ATX AMD Motherboard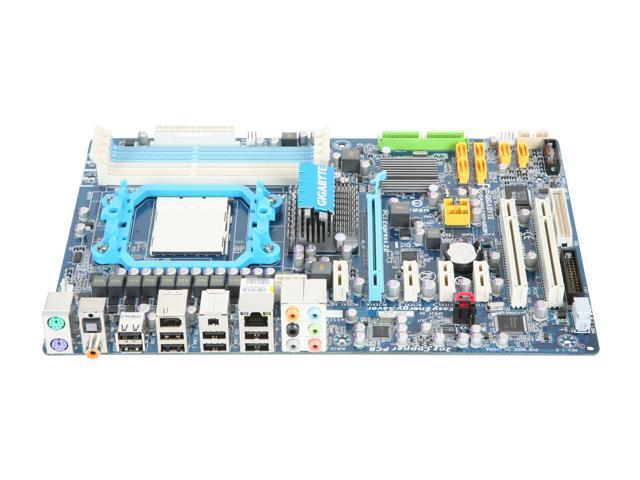 The options are:
Buy a new motherboard that supports two video cards
Find a video card that supports 4 monitors and replace the 4890
Add a second video card using one of the available slots
Cut the X16 card connector down or cut out the end of the X1 socket on the mobo

I've seen posts of people claiming to do this and it works. I believe it, knowing the way PCIe negotiates. But I'm just not willing to risk destroying my mobo. Also depends a lot on the location of the components on the mobo if the card will hit components on the mobo.
Researching the options...
Similar motherboards are available for <$100 that would work with my AMD processor and have two PCIe x16 slots. See the two blue slots.
But I don't like this option because I'd still have to buy a video card for the other slot. My options would be wide open though. Additionally I'd have to strip down the whole PC and transfer the processor, memory and all the cabling. I'd have to resist doing a whole processor upgrade cycle that I could otherwise easily put off another year or two. So I'll nix the new mobo option.
For the same $100 I could buy a video card that supports 4 monitors. This requires eyefinity and I'm a little iffy if this will work well with Windows 8. It probably would. One set back is that one of the outputs is HDMI and one is Display port. Turns out in my collection of monitors, one will support DisplayPort. However none have an HDMI input. HDMI inputs are fairly common these days but I don't happen to have one. I'd need a converter cable like
AmazonBasics HDMI to DVI Adapter Cable (9.8 Feet/3.0 Meters)
I found this XFX AMD Radeon HD 6770 1GB GDDR3 2DVI/HDMI/DisplayPort PCI-Express Video Card HD677XZAF4;HD-677X-ZAF4
card for sale that looked good:
This 6770 Card has two DVI, one Displayport, and one HDMI output. Most cards have only three outputs, one DVI, one HDMI and one DP. So this one is looking good for the price.
Video card performance for the 6770 beats my 4890 which cost twice as much in 2009.
http://www.videocardbenchmark.net/gpu_list.php
But the drawback is, this $100 video card would be driving 4 monitors, with about the same processing power as my old 4890. So my video performance would drop overall.
Note: My son, who has the same Radeon 4890 and mobo setup went this route, and replaced his 4890 with the Radeon 6770. That's because he wanted an HDMI output to plug into a TV and have the sound play through the TV. The 6770 is much smaller, and runs much cooler than the old 4890 with slightly better performance. He does play games. Audio worked once the default audio device was selected, but we did find that Windows 7 could not display through three monitors at once. You can plug them into the 6770, but windows won't let you turn them all on at once. No problem since when you are watching TV you don't need two more monitors. We maybe could have made it work with Eyefinity, but haven't tried yet. Two monitors at once were a deal-breaker for me, I want 4 monitors displaying at once, and don't need audio connection to the monitors.
Finally I looked at video cards that have a PCIe X1 connector. Since my 4890 is still in the picture, and could support high frame rates on the two main monitors, I can get by with a lower performance card to support the two extra monitors which will be used mostly for showing documents, email, etc.
I found this video card that looks like it would work. I didn't want to mix Nvidia and ATI video cards for fear of driver hell. I'm sure it's possible but not worth the risk.
There is a price premium for PCIe X1 cards over X16. That makes absolutely no sense electronics wise, it is probably just because they are not commonly used. This same 5450, which is somewhat obsolete and low powered can be had in X16 format for $30.
XFX AMD Radeon HD 5450 512MB GDDR3 VGA/DVI/HDMI Low Profile PCI-Express Video Card ONXFX1STD2
So far the options were coming out to be:
$100 mobo + $30 video card, No, too much money and too much work
$100 video card and lower performance overall, No, more expensive and less performance
$70 video card with better overall performance, Seems the best option.
Free - cut the mobo PCIe X1 connector and put in an old PCIe X16 card from my junk bin. No because I didn't want risk the mobo.
So I bought the
HIS ATI Radeon HD5450 Silence 1 GB DDR3 VGA/ DVI/ DisplayPort Low Profile PCI-Express Video Card H545H1GD1
I was able to drop it into a PCIeX1 slot one away from the 4890 video card. Now the system has two video cards. On first boot with the new monitors, it took a long time to come up and the post screens didn't show anywhere. Finally Windows 8 started and all four monitors came up working perfectly. Three have DVI inputs, and one is display port on the second connector of the 5450 card.
After a minute or two, suddenly the two original monitors on the 4890 went dark. Screen resolution GUI in windows reported only two monitors. Doh! I went to the System menu control panel device manager and both video cards were listed, but the 4890 said it wasn't working properly and had been disabled. It was listed as having a Windows driver instead of the ATI driver. I right clicked and told it to search for the best driver. It found the ATI driver and came back on. I may have hit disable and then enable again along the way too. Not sure what happened here, but updating drivers did the trick.
Now I need to find a way to put all the screen space on my desk. My workshop is in the basement and I can pretty much do anything I want to the walls. I found these cheap and highly rated wall mounts from monoprice for $15 a piece plus $15 shipping for four. The plan is to mount all four monitors on the wall and swivel them the way I want.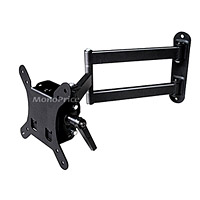 http://www.monoprice.com/products/product.asp?c_id=108&cp_id=10828&cs_id=1082806&p_id=6514&seq=1&format=2
Brackets came and I put them up on the wall. The brackets are really nice and sturdy and you can move the monitor around. Amazing for the price. It's nice to get the monitor stands off the desk too. However the one issue is that the height is not adjustable on these. So if you don't get height exactly right, the monitors don't line up. I got it close enough for now, I'll see if I can live with it or need to tweak it.